MBIS, MBISS Ch. Soyara's Chantilly Lace JC, ROM-C
"Lacey"
---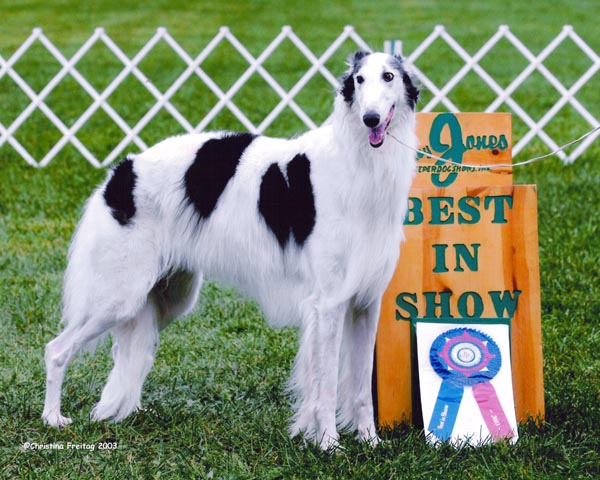 born 12/1997
Pictured at 5 years old
Ch. Rossak of Enfield x Ch. Soyara Misleading Lady Esar
The top-winning breeder-owner-handled bitch in breed history.
The Number 1 Borzoi in All-Breed competition in 2002, 2003 and 2004.
The Number 1 Borzoi in Breed competition in 2003 and 2004.
Her record in the show ring - always breeder-owner handled - is breathtaking:
Five all-breed Best in Shows

2006 BCOA National Specialty Best in Show

Four specialty Best in Shows, multiple Best of Opposite Sex in Specialty Show and 11 specialty Awards of Merit, including three at BCOA National Specialties

127 Hound Group placements, including 31 Group Firsts

Westminster 2004 Best of Breed

269 Best of Breeds

Defeated over 2,900 Borzoi and over 18,000 all breeds

Points, breed wins, Group placements or Best in Shows under 151 different judges
Lacey enjoyed the plaudits of judges ever since her debut. She was Specialty Best In Sweeps under breeder-judge Barbara Skinner at the Midwest Borzoi Club Chicago Specialty in December, 1998 and again went Best in Sweeps at the 1999 BCOA National Specialty in Denver. Lacey capped that by going Winners Bitch and Award of Merit to finish at the 2000 BCOA National Specialty in Portland under breeder-judge Christina Rafton. All her points - including three 5-point majors - were from the Bred By Exhibitor class.
In her last four shows in 2004 she had three Group 1's and a Group 2 while pregnant. In her final all-breed show, as a veteran, she got a Group 3. In her very last show, 8½-year-old Lacey came off the sofa to win the 2006 National Specialty from the Veteran Bitch class under Espen Engh.
From her breeding to Titan, on December 27, 2004 Lacey added motherhood to her accomplishments, giving us a beautiful litter of six vigorous boys and one lovely girl.
Her morning was silver, her noontime golden and her evening bronze. But they were all solid and each was polished until it shone after its fashion.
Lacey was our heart. She was magic.
Caricature by McCartney

Lacey's final show: Best of Breed, 2006 BCOA National Specialty, Olympia, Washington

Best in Show Number 5, September, 2004 under Susan St. John Brown

"Happy, happy!" Best in Show Number 4, May, 2004

Best of Breed, Westminster, 2004 under W. Everett Dean

Best in Show Number 3, September, 2003 under Ralph Lemke

In the Group at Westminster, 2004

Feminine, but with Real Substance

A Winning Attitude

"Hey, Look Me Over!"

Slow pace on the down and back

Medium pace on the go around

At 6 years old,

Lacey

on the fly during Best in Show

Another Group 1

Lacey's Off Side

Head Study, Westminster, 2004

Waiting to go into the ring

Winners Bitch and Award of Merit, 2000 BCOA National Specialty under Christina Rafton

Best in Sweepstakes, 1999 BCOA National Specialty under Barbara Skinner

"My first Group 1! It was only a match, but Daddy blames this lady for everything"

Showing great promise at 5 months

"I'm going to be a star!"

Learning about ice cream with Possum