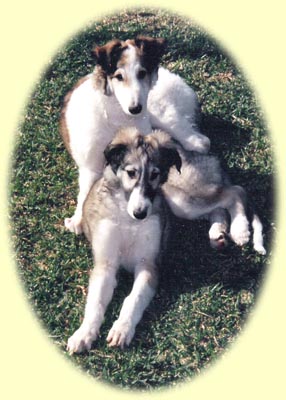 Soyara Borzoi
Soyara is a very small hobby kennel established in 1970. Dedicated to the sport of dog breeding and showing, we strongly support the principles of ethical personal conduct, responsible breeding practices and good sportsmanship in competition.
Our philosophy is to have a limited number of Borzoi at a time and to only breed a litter every two or three years. We promote physical and mental soundness in our Borzoi and our breedings are carefully aimed for these qualities. By breeding infrequently and by having few Borzoi, we are able to give each of our Borzoi the love, affection and time they deserve.
Our primary interest is in conformation but, believing in the versatility of Borzoi, we have dabbled in coursing and obedience.
Conformation - The respect of our peers for the quality Borzoi that Soyara produces is proof our careful breeding program is successful. Each Borzoi is carefully evaluated for its ability to do what it was originally intended to do, with an emphasis on soundness of body and mind.
Over the years Soyara has had many champions, Group winners and specialty winners, as well as producing multiple Best in Show winner Lacey, the top winning bitch in breed history and Number 1 Borzoi for three consecutive years. Dutch was Number 1 Borzoi in Owner-Handled competition for three years running.
Temperament and Health - We've been blessed with stable temperaments in our Borzoi, many of whom are clowns and smilers. You can find our Borzoi engaging in a wide range of activities, conformation, obedience, coursing, Junior Showmanship, therapy and Meet-The-Breed exhibits.
Health of our Borzoi has always been of the utmost importance. Twice our lines have been re-established with new Borzoi when hereditary health problems had decimated the old line. First was the eye disease PRA, second the thyroid disease Hashimoto. We worked closely with Michigan State Veterinary College while these old dogs lived out their lives. These Borzoi had the unfortunate honor of being ones from which the breed norms, diagnostic panels, mode of inheritance, and treatment programs were established. If you do a thyroid panel today (especially through MSU) or have questions answered about Borzoi Hashimoto thyroid disease and PRA hereditary mode, thank these Borzoi.
Some of these dogs are shown in the Memories gallery.
Club Activities - Wherever we've lived we have been active club members. We are currently members of the Borzoi Club of America, Midwest Borzoi Club, Petit Basset Griffon Vendéen Club of America, Houston Kennel Club, Lone Star Borzoi Club and the Houston Area Hound Association. We also represent the NBRF and Borzoi Rescue in Texas and surrounding states and are working on establishing a Borzoi Health and Welfare Foundation. We take our memberships seriously and have served in a wide range of club offices and show committees.
We were the on-site facilities coordinators for the acclaimed 2004 BCOA Centennial National Specialty in Kings Island, Ohio, the largest and most profitable National in the history of the club.
Location, Location, Location - After 12 years in southwestern Ohio, Soyara returned to Texas in 2009. Please stop by to see us. Visitors are always welcome to enjoy our hospitality and the company of our zany Borzoi.
Front of the house
Front yard
Back yard, pens and back acreage. The property extends back into the trees.

The garden for the birds, bees and butterflies

When we moved down to Texas we planned to convert this building into a kennel building for the dogs.

Unfortunately, the building looked like it was surrounded by a moat after a heavy rain.

The entire back yard was raised by a foot to keep the pens dry and a 10 foot concrete apron installed around the building. During the construction it looked like the Western Front.

Inside, the ceiling was lowered and washable dairy paneling put on the walls. The whole building was insulated and ceiling fans and air conditioners installed. There are six indoor-outdoor pens and a separate grooming and work area. The latest addition is a Jog-A-Dog to ensure adequate exercise during our brutal summers.

Dark the dawn when day is nigh, though. Grass was planted and shade trees now surround the kennel. The dogs are now accommodated in air-conditioned comfort even in Texas's summer heat.
Meanwhile, enjoy our site. All pictures here are free for copying and use with proper attribution. No picture on this site has been manipulated, retouched or "improved" beyond the automatic color enhancements used on old photographs in the scanning process. All our dogs, whether from the past or present, are presented as they were or are. Our thanks to Kelly Brunarski, Christina Freitag and Rebecca Neal for several of the photos.