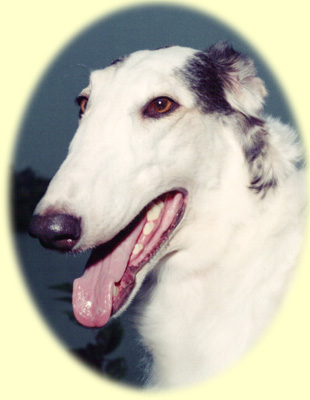 Soyara Present - New Beginnings
Overcoming adversity, we rebuilt on Seabury, Lanel, Lythe, Greyhaven and Sylvan. The quality of our breeding has been rewarded time and again by judges and we have produced many all-champion litters. The accomplishments of the next generation through Possum and on to Lacey, Faith, Tess and Carmen have been even greater. We take pride in presenting them here.
Click on a photo to go to their page.
Ch. Soyara's Cunning Little Vixen

"Tess"

born 12/2004

Ch. Soyara's Titan of Blackmoor JC x

MBIS, MBISS Ch. Soyara's Chantilly Lace JC

GCh.-B Soyara's Carmen Fantasy

"Carmen"

born 1/2008

DC Sylvan Seabury Virago SC, FCh. ROMX-C x

Ch. Soyara's Faith Tis Herself Esar

GCh. Soyara's Celeste Aida JC

"Aida"

born 1/2008

DC Sylvan Seabury Virago SC, FCh. ROMX-C x

Ch. Soyara's Faith Tis Herself Esar
Our Winning Braces

Soyara's I'm Their Devil

"Max"

born 7/2012

BISS GCh. Soyara's The Flying Dutchman x

Ch. Soyara's Cunning Little Vixen

Ch. Soyara's I Wanna Be A Producer

"Leo"

born 7/2012

BISS GCh. Soyara's The Flying Dutchman x

Ch. Soyara's Cunning Little Vixen

Soyara's Crowning Glory

"Dot"

born 9/2015

Ch. Soyara's Smoke and Mirrors x

GCh. Soyara's Carmen Fantasy

Soyara's Devilish Delilah

"Delilah"

born 9/2015

Ch. Soyara's Smoke and Mirrors x

GCh. Soyara's Carmen Fantasy

Soyara's Grand Finale

"Finn"

born 9/2015

Ch. Soyara's Smoke and Mirrors x

GCh. Soyara's Carmen Fantasy

Soyara's High Noon

"Dan"

born 9/2015

Ch. Soyara's Smoke and Mirrors x

GCh. Soyara's Carmen Fantasy