Ch. Soyara's A Whiter Shade of Pale
"Sylvia"
---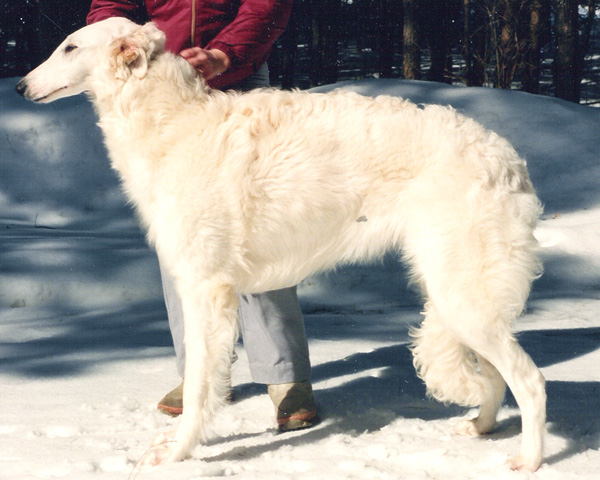 born 1987
Ch. Lythe Moon & Sixpence x Lanel Symphony Soyara
Sylvia was reacquired to help rebuild Soyara. She whelped a litter by Ch. Greyhaven the Pendragon, a Lythe Moon and Sixpence grandson, then restarted her show career as a veteran. Sylvia's great grandsire, Ch. Sirhan Kaissack, was one of our all time favorite Borzoi. We wanted to recapture the style, soundness and personality Kaissack had passed on down through the years. We'd been fortunate enough in the 70's to have a beautiful litter by his son, Ch. Debonaire Dariavaush Nothus. Sylvia's sire Ch. Lythe Moon & Sixpence, a Nothus son and Kaissack grandson, embodied all of Kaissack's traits.
Sylvia had only one litter but of the four pups three finished in one year. While Sylvia, a top producer, may be a foundation bitch for Soyara, she will best be remembered as Silly Sylvia the class clown, the happy-go-lucky smiling Sylvia.